Episodes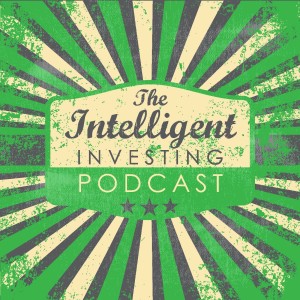 Tuesday Dec 15, 2020
Tuesday Dec 15, 2020
Summary
In this episode, I had the pleasure of sitting down with Rafael Resendes who is the portfolio manager & co-founder of Applied Finance Capital Management.
It was pretty exciting to have the co-founder of Applied Finance on the Intelligent Investing Podcast due to the fact they have become a thought leader in valuation and portfolio construction in the value investing community. You could say they are the real deal.  Unlike the majority of firms today that focus on low multiples to define "value", they define value as identifying companies trading below their intrinsic value. Their Valuation Driven™ approach forms the foundation of their investment decisions.
Applied Finance is 100% employee-owned, with the average tenure of our 10 partners being over 18 years.
History of Innovation
Research has always been a critical part of Applied Finance's culture.  In 1995, they humbly began in a Chicago basement, with the idea to create a better approach to measuring corporate performance and value companies than existed at the time.
Their roots were and remain dedicated to answering two questions critical to any investment decision:
What is a firm's economic performance?
What is a firm worth?
They developed the Economic Margin® framework to measure a firm's economic, rather than as-reported accounting performance, leading the industry with primary research into:
Capitalizing R&D
Estimating size and leverage risk premium
Modeling competitive advantage through Economic Profit Horizon™
Ultimately, creating a direct link from corporate performance to valuation.
Shortly thereafter, they began assembling a technical team that today includes a unique mix of professionals with diverse functional, educational, and cultural backgrounds.  The result is a special workplace that values: accomplishment, stability, and ethics in the pursuit of excellence for our clients.
Since 1995, they have calculated over 20 million out of sample, point-in-time, company valuations.  Each week they add approximately 20,000 additional intrinsic value estimates to continually expand their knowledge and improve their strategies.
Their proprietary research analytics provide the foundation for our repeatable and sustainable investment process.

Philosophy
His firm aims to buy stocks trading below their intrinsic value which forms the foundation of their strategies.
As obvious as that phrase seems, he believes there is much to appreciate in its meaning and implementation that is too often is either ignored and/or misunderstood in the value investment community.
First, he focuses his efforts on understanding a firm's intrinsic value, not its cheapness. Cheapness investing, encompassing the Fama/French value factor among other low price to something metrics, has become extraordinarily popular over the past 30 years.  While there has been an abundance of academic research and marketing expenditures promoting such styles, the research and messaging behind this approach is fundamentally flawed. After controlling for whether a stock is over or undervalued as measured by Applied Finance's Intrinsic Value Factor, cheapness provides little to no achievable excess returns. The "low price to something" investment managers know such metrics do not represent intrinsic value, instead, they hope the stocks they buy are correlated to companies trading below their intrinsic value. Each week, Applied Finance calculates the intrinsic value of every stock in the investable universe of each strategy they support to determine the stocks providing the most attractive future expected returns at any point in time to identify candidates for inclusion into our strategies.
Second, his company actively cultivates a vibrant valuation culture within their investment group through an ongoing commitment to:
Develop and maintain a deep professional expertise
Perform ongoing theoretical and applied valuation research
Continually review our valuation efficacy.
Lastly, while it is easy for an investment manager to claim they perform valuations as part of their research process, it is important to understand that performing a valuation is actually very easy, it is only simple algebra. In contrast, it is extraordinarily difficult to consistently perform valuations that identify companies trading above and below their intrinsic value, which can be purchased or sold short to generate alpha at the portfolio level.
Unlike any other firm, Applied Finance over the past 25 years has developed and maintained original, proprietary research to properly model equity risk premiums and Economic Margin® sustainability, which they call Economic Profit Horizon™. This enables them to avoid the unrealistic assumptions common to most valuation approaches practiced today.
In addition, they archive 20,000 valuations weekly, over 20 million since 1995, that allow them to understand how well they value the stocks they own in their portfolios and just as importantly those they do not so they continually learn and grow our knowledge base from our mistakes.
This enables them to avoid the unrealistic assumptions common to most valuation approaches practiced today.
About Eric Schleien
Over the past decade, Eric has trained thousands of individuals including board members of public companies as well as several Fortune 500 CEOs. Eric specializes in organizational culture and has become a leading authority on organizational culture in the investment industry.
Eric has been investing for 15 years and has been using breakthrough coaching methodologies for over a decade. Eric had the insight to combine proven coaching methodologies with shareholder activism techniques to create an entirely new model for shareholder activism that was more reliable and created greater sustainable results in a rapid period of time. On average, Tribal Leadership produces a 3-5x increase in profits of culturally troubled companies within an average of 24 months or less.
Eric currently resides in Philadelphia, PA.
Help Out The Podcast
If you like The Intelligent Investing Podcast, please consider leaving a rating and review on Apple Podcasts. It takes less than 30 seconds to do and makes a huge difference! You can also join the Facebook page!      
You can subscribe to the podcast on the following platforms:
CONTACT ERIC SCHLEIEN
Facebook  |  LinkedIn  | Twitter  | YouTube | GSCM | Instagram